PixelPeeper 2.0: What's New?
PixelPeeper has just got a major update.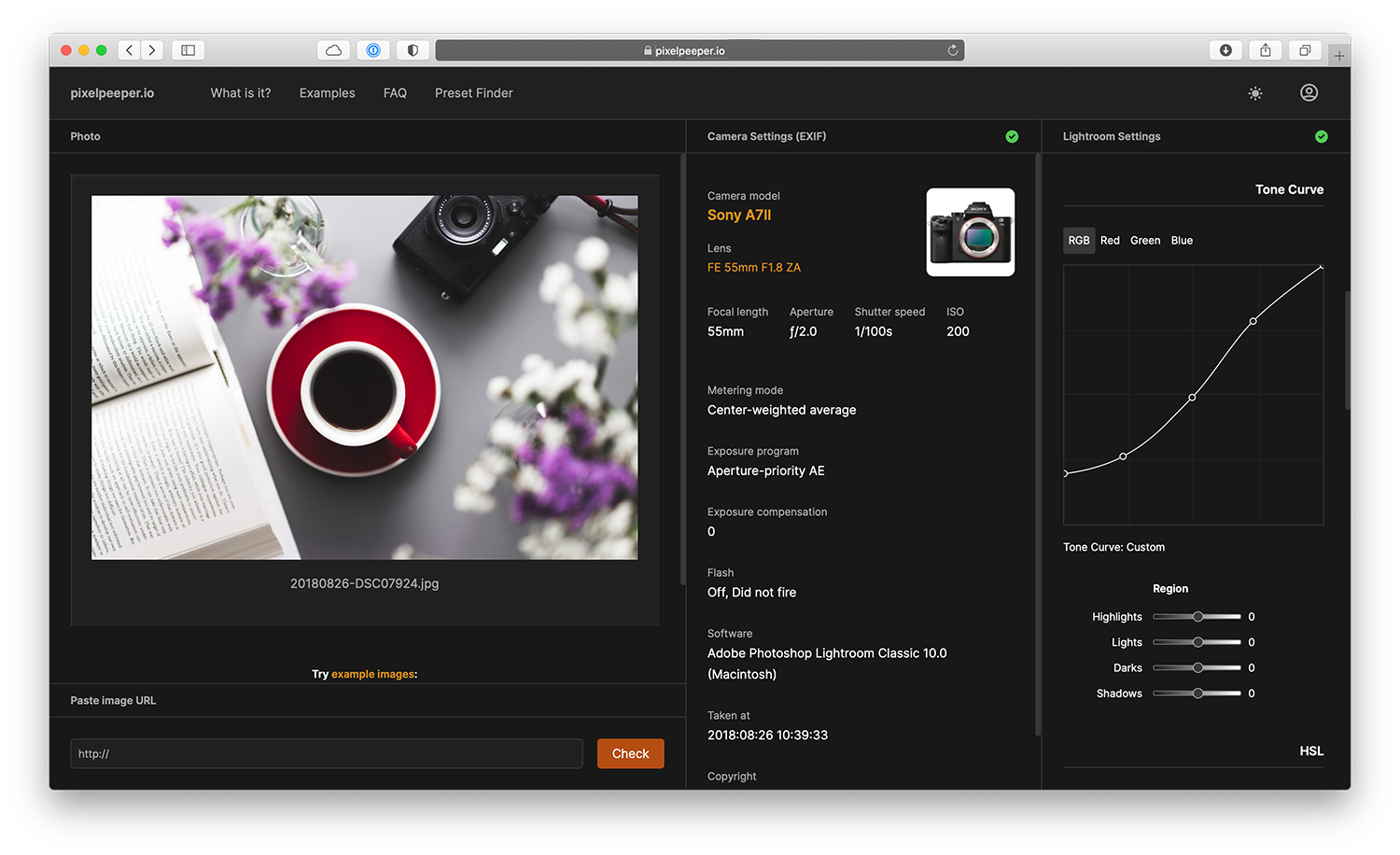 Three years ago, I launched the first version of PixelPeeper and it was brutally minimalistic:
I made a little website that takes a JPG image and shows you how it was edited in Lightroom (+ camera settings)https://t.co/EFG3UhMdTS pic.twitter.com/P8EaienbZ2

— Piotr Ch (@p_ch) June 19, 2017
In the following years I added new features, fixed bugs, but the way it worked and looked hasn't veered away from the initial release. The UI has gotten rusty, the code behind it didn't allow for much further improvement, so it was time for a major overhaul.
Today I'm introducing a completely new (but hopefully still familiar) version of the site.
Example photos
The major problem with PixelPeeper is that it doesn't work for everyone. You need JPG files that were exported in Lightroom. And files have to include metadata. If these conditions aren't met, you simply won't see any results and the app is pretty much useless.
And though files with metadata are not impossible to come by, it can sometimes take a bit of luck and perseverance to find them.
The initial experience sucks, because the job to make PixelPeeper work is mostly on you.
That's why I'm introducing Example Photos. PixelPeeper now has a collection of images with complete metadata (each edited manually, no presets), so you don't have start from zero. As a bonus, every example contains an unedited/before shot, so you can see what changes were made.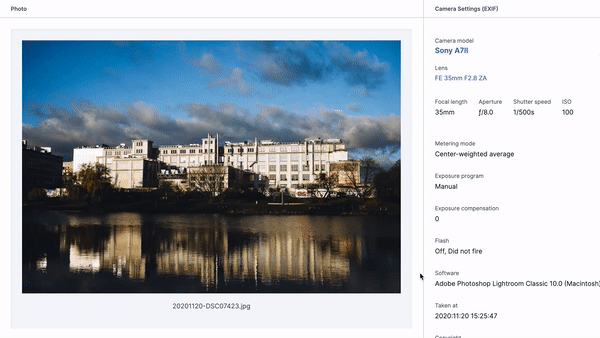 PixelPeeper was always meant to be an educational tool and I hope these examples will provide a lot of value to everyone who doesn't have the patience to dig through the internet, looking for images to learn from.
Keep in mind, the example images are all my photos and although I tried to edit them in a variety of different looks, I definitely have a bias towards a certain style. In the next few months, the gallery will be expanded to include more examples.
Settings for example images can be downloaded as Lightroom presets (XMP or DNG) that you can apply to your own photos.
UPDATE 11/2021: I've removed the "before" versions from example photos, because many people found them confusing and they made it harder to grasp the concept of PixelPeeper.
Dark mode
Long overdue. It's embarrassing how long it took to introduce, but it's finally here! PixelPeeper has officially joined the dark side.
Lightroom Mobile Presets (DNG files)
Lightroom for mobile doesn't support XMP presets. Up until now, you needed Lightroom for Desktop to turn XMPs into DNG files that could later be used on your phone/tablet — and that required Creative Cloud subscription.
PixelPeeper now allows you to download a dummy DNG file that you can import to Lightroom mobile and use it as a preset. For more details on how to use it, visit this page.
Log in without password
Password is no longer required to log in to the site. You fill in your email address, the app sends you a magic link, you click the link and you're logged in.
This is intended to solve two problems: invalid emails and forgotten passwords.
Mistyped and unconfirmed emails were an issue for quite a few accounts and my policy on that hasn't been strict enough, which in a couple of cases led to people not being notified about subscription renewals – and that's not the scenario I (or the users of the site) ever want to deal with. Logging in with a magic link solves this problem: if you don't provide a valid email address, you simply won't be able to log in.
"Forgot my password" was one of the most frequently used feature on the site. With magic links you don't need to remember another password, you only need a working email account.
I'm sure some people will enjoy the magic link feature, some will hate it, so we'll have to see how many angry support emails I get before I bring back passwords 😉
And a few more…
The new version is a complete rewrite of the UI, with a lot of tiny improvements all over the place, which I hope will lead to a better overall experience. I've fixed a bunch of annoying issues that have been there forever (like the window not remembering its scroll position after dragging a new file).
Last but not least, if you don't like the subscription model, you now have the option to purchase a Lifetime plan: pay once, use forever.
Most importantly, this release will serve as a solid base for future improvements.
---
Hope you enjoy the new PixelPeeper. I'm sure I've introduced a bunch of unintended new bugs. If you notice anything weird, or if you have any suggestions, please email me at [email protected].